$45 Pay Per Signup Bonus Days are BACK! July 4th and 5th
To give you some extra cash for this July 4th weekend we are offering $45 to our Pay Per Signup program increased from our normal $30 to $35 Pay Per Signup.
To be included simply send me a quick email with your IntenseCash affiliate username and be sure your links are using our normal $35 Pay Per Signup Program, get your link codes by logging into your IntenseCash.com Account.
Note: If I have already contacted you or you replied to the email already no need to tell me again, I will be sure you get the credit!
—————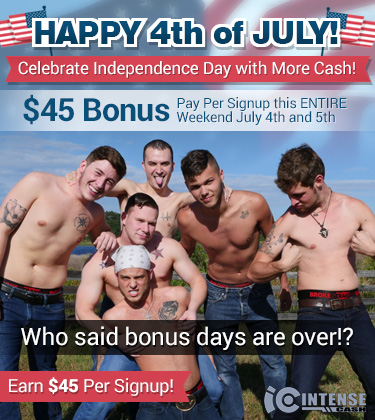 This is for all traffic sent to:
Broke Straight Boys
College Dudes
College Boy Physicals
Boy Gusher
HS Boys
Bonus $45 Per Signup will be paid for July 4th and 5th (Saturday & Sunday) – Starts Midnight Eastern Time Zone.
So get your link codes up today! Go to: www.intensecash.com
Any questions or comments please contact Chuck:
Chuck at IntenseCash.com
Thank you everyone!