Broke Straight Boys—The Reality Series to Air on Here TV
A New Reality Television Series that Goes Behind the Scenes
of the Hottest Adult Gay Website in the Biz
December 2, 2014 (NEW YORK)—Here TV (www.heretv.com), America's only gay TV network, will premiere a sizzling new show, Broke Straight Boys—The Reality Series.
This eight episode series takes an inside look at one of the most popular gay adult websites. The series kicks off with an hour-long first episode, followed by seven additional 30-minute episodes. Broke Straight Boys—The Reality Series will premiere on the network Friday, December 19, 2014.
"It is exciting for all of us at Here TV to be venturing into the reality genre for the first time and especially with something as unique and boundary-pushing as this series," says John Mongiardo, Here TV's Senior Vice President of Programming Operations.
"We are thrilled to be partnering with Here TV to give viewers a peek behind the curtain. They're expertise and commitment to this programming makes them the perfect fit for this series." says Mark Erickson, executive producer of Broke Straight Boys-The Reality Series
Broke Straight Boys—The Reality Series explores the world of "gay for pay" and young men who choose to supplement their income by doing gay porn for the adult website BrokeStraightBoys.com. Performing in gay adult films, actors earn 10 times the amount as their straight-porn counterparts. So, is it worth it? And just how far will the guys go? This docu-series, part Real World and part Real Housewives, aims to answer these questions and take the reality genre to a whole new level.
Click here and check out the trailer http://heretv.com/broke-straight-boys
Here TV airs on all major U.S. cable systems as a 24-hour subscription service. Here TV appears in 96 of the top 100 U.S. markets, including every top 10 market. To find out how to get Here TV, log on to www.heretv.com/order-now. Here TV is also now available as a YouTube premium channel.
Get exclusive Here TV updates on Facebook at www.Facebook.com/HereTelevision and on Twitter at @heretv.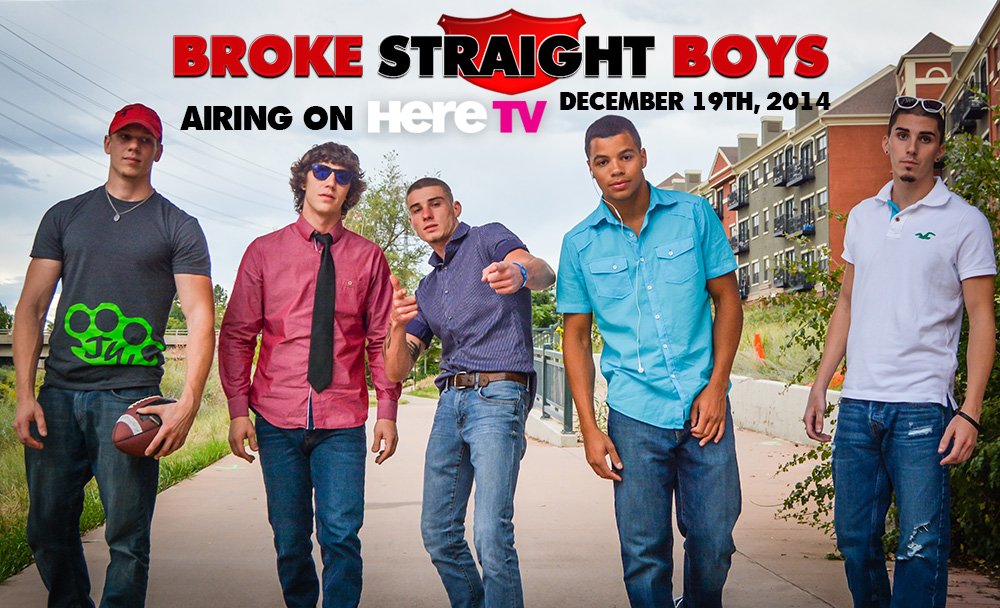 About Here Media
Here Media Inc. produces and distributes niche content across all platforms worldwide. Here Media's iconic brands distribute gay media with universal, humanistic appeal. Its distribution platforms include television, VOD, broadband, online, print, and mobile.
Here Media owns and operates a variety of media assets, including:
Iconic brands including OUT, The Advocate, Here TV, and Gay.com.
Web properties including Gay.net, Advocate.com, Out.com, OutTraveler.com, and SheWired.com.
Forward-Looking Statements
In addition to the historical information contained herein, this press release may contain forward-looking statements. Such forward-looking statements involve known and unknown risks, uncertainties, and other factors which may cause the actual results, performance, or achievements of the company to differ materially from any future results, performance, or achievements expressed or implied by such forward-looking statements. Such factors include, among others, the limited operating history and variability of operating results; ability to achieve its operating plan; competition; timing and success of product launches; success of marketing efforts; and dependence on technology infrastructure, cable and satellite operators, and the Internet.
*          *          *
Press Contact:
Josh Rosenzweig
917-957-7556
[email protected]
——
Promotional Tools for BrokeStraightBoys.com Contact:
Chuck – Affiliate Manager
IntenseCash.com
ICQ: 444887112
[email protected]
View the Broke Straight Boys Reality TV Series Trailer: